Have you got any? :)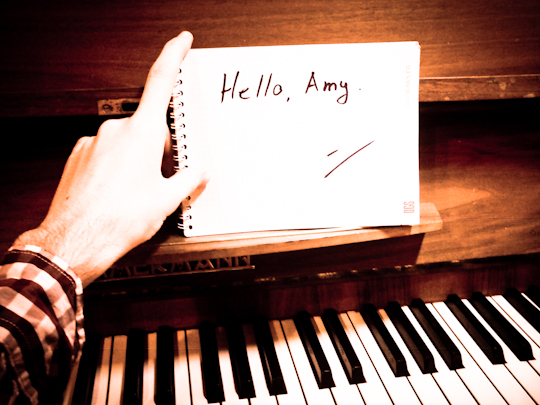 Thank you for sharing this.

I first heard Maslo in Pump It Up Pro 2. The song really caught my attention, so I went online to look for it and found the full version here. The first time I heard the full version, it blew me away and moved me to tears. I have listened to it over and over many times since then, and it still blows me away (and also sometimes moves me to tears again). Your technical skill as a producer is amazing, but it wouldn't mean anything without all the emotion you put into the music. You have such great attention to detail, every little inflection on the notes and sounds just tugs at my heart.

I personally feel that this song perfectly expresses many of the emotions I'm going through right now. But music is subjective, and I wonder what you were feeling when you wrote this song. I would guess, something completely different than what I feel when I hear it :) One of the beautiful things about music, every listener can have a different personal experience of it.

Great work. I cannot even express to you how much I am moved by it.
Hello, Amy.
Maslo means a lot to me. It stands right on the edge between… let's say between what I want to do (as a musician) and what I want to hear (as a sound engineer if I can call myself that). It wasn't the thing that was woooorked and wooorked out hard — it's something that just, well, happened to me, and I think you know what I mean. It lived without me and grew that way.
But it's not the point.
These days my mind is getting more and more seduced by electronic music, and the majority of it is tasteless, frigid trash that teaches us to follow dancefloor standard. It feels like someone is pushing me far from my beloved notes to cold and fearless synths, and I can't resist. And every single word in your comment just drags me back to the world where I want to belong to, where I really want to stay now for some time. It seemed that there're not so much of these words left for me, but still…
So.
"Thank you for sharing this.".
Who is the guy who lend his voice on Smells Like A Chocolate? :D
Nice!! :) Our team (which is HUGE, you know! *sparkling smile*) had to choose between Gackt and Tony Colman but we ended up picking me because I don't have a lawyer.
Seriously, I like to pretend that I know how to sing. Yeeeah, right.
Thanks for your comment, it made me smile :)
Rik Mendez (at Facebook) said:
whoa wait a second what happened to Video Out F?
Yes! And we have a winner here! ;D I'm doing video out (insertletterhere) series since... oh god, since 2005. :D so it's quite a custom already. Rik was the first one to notice that the line of
,
,
,
, and
suddenly was followed with
video out g
and still lacks F — thank you for your attention! video out g was based on a draft for video out f. :) That's why.
You'd like to ask something special, too? I'm keen to hear your questions.
I'd like to sincerely thank everyone mentioned in this post. Write me back again, please.