Finally we have some photos from wonderful and very special gig we (Leila, Megus and me) held at Tanibata-2010 anime festival.
Look forward for more info and video from the event :)
And now — continue reading to see other beautiful shots made by my dear friend f-fotograph.
Now it's available for free download.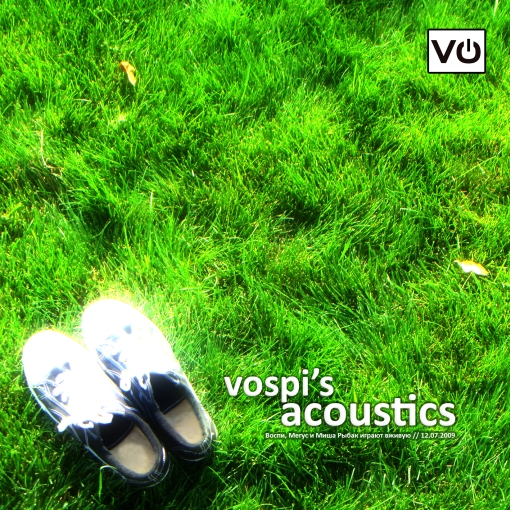 [VOSP004] vospi's acoustics
Vospi, Michael Rybak and Megus live in Rostov-on-Don, 12.07.2009. We're doing Vospi's tracks guitar+vocal style acoustics covers, talking a bit and having massive snatch of fun on this recording. This Vospi Powered release is still available on CD (last copies left I think), but now it's released there, free to download.
Tracklist (translated, asterisks * are linking to original tracks (just for fun)):
01 - (spectators are taking their seats)
02 - not quite presents
03 - lisitsa kradyotsa
04 - (three friends)
05 - золотой космонавт
06 - lonely pretender
07 - (cheers to Moscow)
08 - bass through!
09 - чудесный план
10 - (note from auditorium)
11 - smells like a chocolate
12 - snow stream
13 - sweet tornado
14 - (good bye!)
15 - nya-nya-nya
16 - -140
ENJOY! :)
Credits. Arrangement by: Vospi, Megus, Michael Rybak. Lyrics by: Vospi (5, 8, 12), Michael Rybak (12), A. Barto (9), Z. Ramazanova (16). Composed by: Vospi (2, 3, 5, 5, 8, 9, 11, 12, 13), Z. Ramazanova (16). Guitar, vocal: Vospi, Megus, Michael Rybak. Mixing, mastering, design: Vospi. Additional sound and auditorium recording: Alex Lapshin, Sapphire. Produced at Vospi Powered, 2009.
Note: This release is free. Still if you'd like to see more Vospi Powered releases, you can (1) support artists by visiting their pages, (2) support studio using Donate button in the right column of this site. Also, you can still order CDs — mail me. We need your help to keep going. Thanks.