You're welcome to be pressurized.

Vospi covers Nike Borzov - Odna Ona (live)
This whole thing is played live in one take, a 90s-2000s russian song hit me and left noone standing inside, so I figured...
You can download the mp3 separately on a music page. Scroll down.
See you later, party people. Be well, be good.
Happy anger management.
(1) New live mixes available. They're recorded off shoutcast stream. Tracklists on request; bring it on dance lovers! And don't forget to try to catch Fukken Exclusive Radio online here at vospi.com.
mixed by Vospi - live at fukken exclusive radio 06.04.10
mixed by Vospi - live at fukken exclusive radio 10.04.10
(2) Acoustic cover that involves my voice and guitar skills. Russian language, heh :)
Hope you'll enjoy this.
Splean covered by Vospi - Анимешная Майская
(3) Let's pump it up! Watch me trying to beat Banzai course on PIU Pro. (*cough*uckin*cough*)
For some reason I've produced couple of covers recently. Not quite sure why it was so; I believe I just enjoy singing songs of my favourite having a chance to interpret them.
(1) The main one for today.
Gackt covered by Vospi - freesia op.1
original song:
All arrangement was totally performed by myself in my home studio; original song is performed by Gackt, and it's my passion for many years. Video was made for New Hardcore Konvent 2.0 show; MANY thanks to docik, bu_nya and floyd for help.
(2) Short one. :)
Splean covered by Vospi - Podvodnaya lodka
+ original song:
Only live instruments, heavy overdrive on master bus, 3 vocal lines. I enjoy this because the original song is just too cool (it sound a bit dusty though :)).
(3) Jazzy one.
5nizza covered by Vospi - Ya s toboy
original song:
My comrade Leila needed this track as a part of her vocal competition bill; I've created the arrangement and then tried myself at this one. Not the best one for myself, but not too bad indeed.
Now it's available for free download.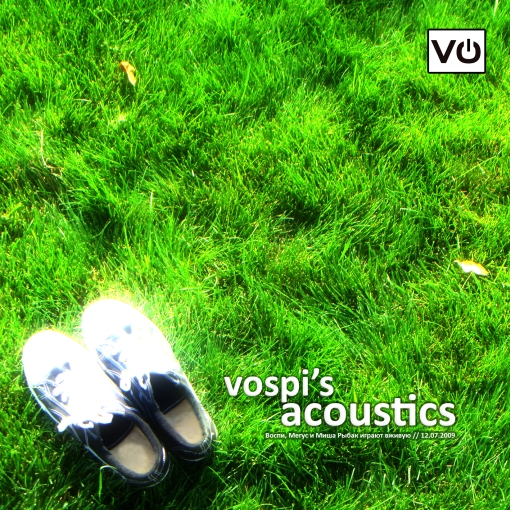 [VOSP004] vospi's acoustics
Vospi, Michael Rybak and Megus live in Rostov-on-Don, 12.07.2009. We're doing Vospi's tracks guitar+vocal style acoustics covers, talking a bit and having massive snatch of fun on this recording. This Vospi Powered release is still available on CD (last copies left I think), but now it's released there, free to download.
Tracklist (translated, asterisks * are linking to original tracks (just for fun)):
01 - (spectators are taking their seats)
02 - not quite presents
03 - lisitsa kradyotsa
04 - (three friends)
05 - золотой космонавт
06 - lonely pretender
07 - (cheers to Moscow)
08 - bass through!
09 - чудесный план
10 - (note from auditorium)
11 - smells like a chocolate
12 - snow stream
13 - sweet tornado
14 - (good bye!)
15 - nya-nya-nya
16 - -140
ENJOY! :)
Credits. Arrangement by: Vospi, Megus, Michael Rybak. Lyrics by: Vospi (5, 8, 12), Michael Rybak (12), A. Barto (9), Z. Ramazanova (16). Composed by: Vospi (2, 3, 5, 5, 8, 9, 11, 12, 13), Z. Ramazanova (16). Guitar, vocal: Vospi, Megus, Michael Rybak. Mixing, mastering, design: Vospi. Additional sound and auditorium recording: Alex Lapshin, Sapphire. Produced at Vospi Powered, 2009.
Note: This release is free. Still if you'd like to see more Vospi Powered releases, you can (1) support artists by visiting their pages, (2) support studio using Donate button in the right column of this site. Also, you can still order CDs — mail me. We need your help to keep going. Thanks.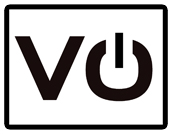 Suddenly, another cover version — I really like this house-old-time-favourite song by Deepest Blue, and I tried to sing it several times before. Here is a result of my practice for now.
Also you can download the song as mp3:
Deepest Blue (covered by Vospi) - Give It Away
The original song. This actually started as a small sketch, but I enjoyed overdubbing new parts over and over again playing everything, so it ended up like this (I especially like how it was possible to process my acoustic guitar into the bass sound). Vocal is slightly getting better (but my English is still too bad xD). I'd like to dedicate this song to a friend of mine whose birthday passed yesterday: Vladislava, please excuse me for my silence and have a nice year! :)
I'm feeling okay, I practice my DJ skills with Live, I play Pump Pro and enjoy Influenza Media imprint along with Klute. Hope you're okay, too. :)
It was obvious for me that I will touch this precious song this or that way.
(and I hope that you're not tired of youtubes, not yet! ;))
I'm really glad that I had a chance to do it that way with Michael. This work means a lot for me.
Let Go (live covered by Vospi and Michael Rybak) as 320kbps mp3.
Now for some technical details. We recorded this at Michael's Rybak home studio in Kiev, Ukraine; everything was recorded simultaneously using Kawai electropiano (also routed by midi), M-Audio Nova condenser mic (for me) and some dynamic mic that I cannot recall now (for Michael). Of course I can see quite a bit of harshness in this performance but still I'm satisfied. I'd really like to improve myself to the level where me and my partner could reach harmony easily while performing live. So it's a bit of dream-came-true thing to me.
We really hope you enjoy it. Be sure to check the original track, too; it's gorgeous.
I've decided to revive Project Herevego. I'm using that alias when I'm writing Bemani songs covers. So, a new cover titled Korova is waiting for you in the music section.