Leila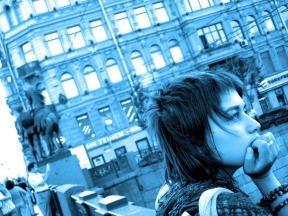 Leila Muradova was the first vocalist who sang in front of me in the very different way than any others. She is a talented performer and songwriter; her expressive voice can probably kill you — or save you from tears. One of the most important friend of mine, Leila left Krasnodar and now lives in Saint Petersburg, but I know that we would be very happy to meet again, and I hope it will happen pretty soon.
You can notice Leila performing in a couple of my tracks: for example, they are Kind Words or Love Maths. Her vocal samples also were used in video out e and Too Fast To Age (love VIP version).
—> You can download Leila's live performance as Vospi Powered label release.
Michael Rybak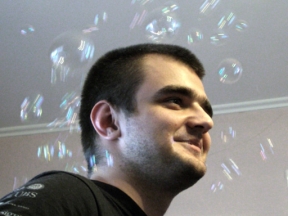 He is wonderful. Have you ever seen high-class programming specialist who can play piano like a professional performer and roar like a lion? I bet you haven't — unless you met this man. Our book of love is long and boring to tell, but... this man means a lot to me. Thank you for every minute you've played, sang and smiled for us, Misha.
Michael helped me a lot during the Vospi's Acoustics live show, and I hope you will be able to hear the result very soon.
—> To check out Michael's creativity visit Rybak's youtube channel.
Megus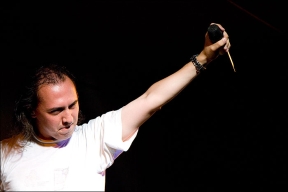 One of the first composers I've met and got along, Megus also is a good guitar performer and vocalist. Very skilled at composition, he tries himself in different genres from chiptunes to hard-rock and always gets his fans' shoutouts. :)
Megus helped me a lot during Vospi's Acoustics live show, and I hope you will be able to hear the result very soon.
—> You're welcome to visit official Megus page.
Nu.Clear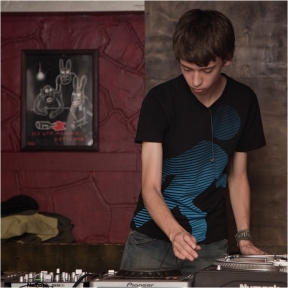 Ilya Tsvetkov (known widely in Russia as Nu.Clear) is a really active man. He is deejaying, he is producing very fine soulful drum and bass, he is taking up photography... should I go on? Okay, sure I can: he is very kind and cheerful guy and he really loves music — that means a lot more for me than the list above.
Nu.Clear and me worked on some drafts together, he helped me a lot with some of my music videos and I was honored to participate in his track called The Game as a guitarist and vocalist. Unfortunately, this track is not released for public yet, but...
—> ...but you can always keep a track of Nu.Clear's tracks at bynuclear.com.