This whole piece was done far from home studio in my friends' places.
Russian verb "plutat" means "to stray".
Write me a word. Long time no see. :)
I really hope you like it.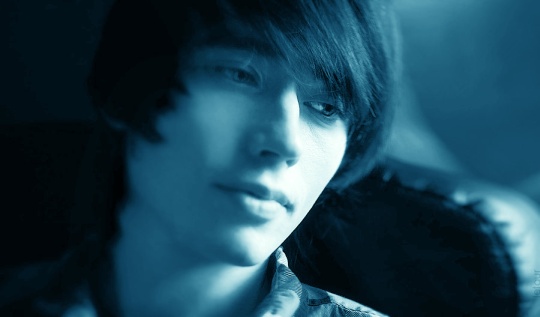 Listen to a new song Draft 74 on the music page.
Also on Vospi's Soundcloud — here.
* brilliant artwork by Letaur
http://letaur.deviantart.com/
well...
Once upon a time Imogen has decided to produce a new track together with her fans.
She thought through everything well: people were sending their thoughts and ideas to her using their creative skills. One day she was making her way through the sounds sent, and the other day she was already watching video/photo seeds; one more day was spent to review lyrics ideas... She was live online daily and constantly, she was showing, telling, sharing, smiling to everyone who was ready to dedicate their time and skills to her. For the sake of her creative tasks, of course.
Without any doubt, I wasn't going to miss it!
One of those tasks was to create a solo for a part of the final track. Participants had to compose and record their solo over the section suggested by Imogen. Of course the final result was a lot more replete, but this base was enough to build on.
I was very nervous while shaping my parts. I think I never wasted this much time creating and balancing the bassline, frazzling my own nerves. There will be a LOT of participants! Imogen will choose something live and passionate for sure, but what I've got is just electronic instruments! what I'm going to do?! aaaaaah, help!!!
...at last I've persuaded myself that the best decision is to do something that will feel natural, without trying to conform to my guesses. And let chance decide.
that's what I've came up with for imogenheap.
This cut is the second edition. Here's the first one, without the vocal lines.
I took my liberty to change the original chord progression.
I've sampled my voice and have chopped and cropped it as well.
Imogen moved my version to the "preferences" playlist, so the other day I was waiting with the butterflies in my belly. And thus... and thus I didn't made it to the track called Imogen Heap - Lifeline, and the only thing I got now is the second she spelled my nickname and played my parts — and it was surely the moment when my heart fell down just for a second. Here's a tiny video clip of ms. Heap talk.
Everyone has a choice when to make himself an idol. And I think my chimera still exists.
It's just as well.
this track was composed 5 years ago due to the moment I heard my friends playing two ocarinas together.
please enjoy the sound of this winter.
hope you will like it.
Running to and from on the imaginary streets... you just cannot catch your dream, sinking in it every night. You even know the name of your dream, but you're not able to touch it through years and years.
But one fine day you open the new door.
And you start to play a new game.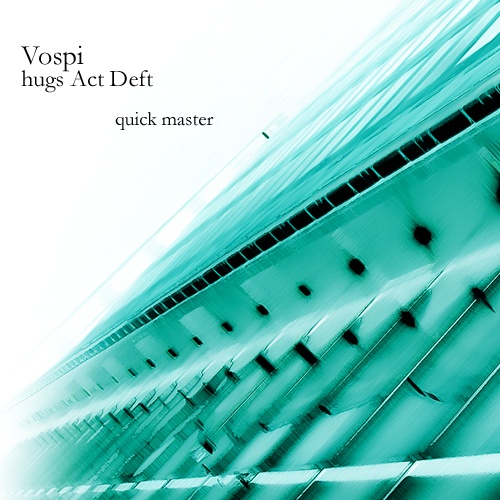 Vospi hugs Act Deft - Quick Master
mp3 192kpbs; 02:22; remix; 3,27 Mb
I am so happy — it seems that I've worked it out.
Piano/drums piece — the way I see it.
Also I finally got my piano tuned. That is great. :)
More news to come.
Suddenly, another cover version — I really like this house-old-time-favourite song by Deepest Blue, and I tried to sing it several times before. Here is a result of my practice for now.
Also you can download the song as mp3:
Deepest Blue (covered by Vospi) - Give It Away
The original song. This actually started as a small sketch, but I enjoyed overdubbing new parts over and over again playing everything, so it ended up like this (I especially like how it was possible to process my acoustic guitar into the bass sound). Vocal is slightly getting better (but my English is still too bad xD). I'd like to dedicate this song to a friend of mine whose birthday passed yesterday: Vladislava, please excuse me for my silence and have a nice year! :)
I'm feeling okay, I practice my DJ skills with Live, I play Pump Pro and enjoy Influenza Media imprint along with Klute. Hope you're okay, too. :)
It was obvious for me that I will touch this precious song this or that way.
(and I hope that you're not tired of youtubes, not yet! ;))
I'm really glad that I had a chance to do it that way with Michael. This work means a lot for me.
Let Go (live covered by Vospi and Michael Rybak) as 320kbps mp3.
Now for some technical details. We recorded this at Michael's Rybak home studio in Kiev, Ukraine; everything was recorded simultaneously using Kawai electropiano (also routed by midi), M-Audio Nova condenser mic (for me) and some dynamic mic that I cannot recall now (for Michael). Of course I can see quite a bit of harshness in this performance but still I'm satisfied. I'd really like to improve myself to the level where me and my partner could reach harmony easily while performing live. So it's a bit of dream-came-true thing to me.
We really hope you enjoy it. Be sure to check the original track, too; it's gorgeous.
I'm feeling nice tonight, and I liked an idea of writing a light jazz piece about it. Very calm track one Point is in the music section now. Also I've extended this section's content hugely. All my tracks (41 title!) are finally available for download. Go and get them right now!